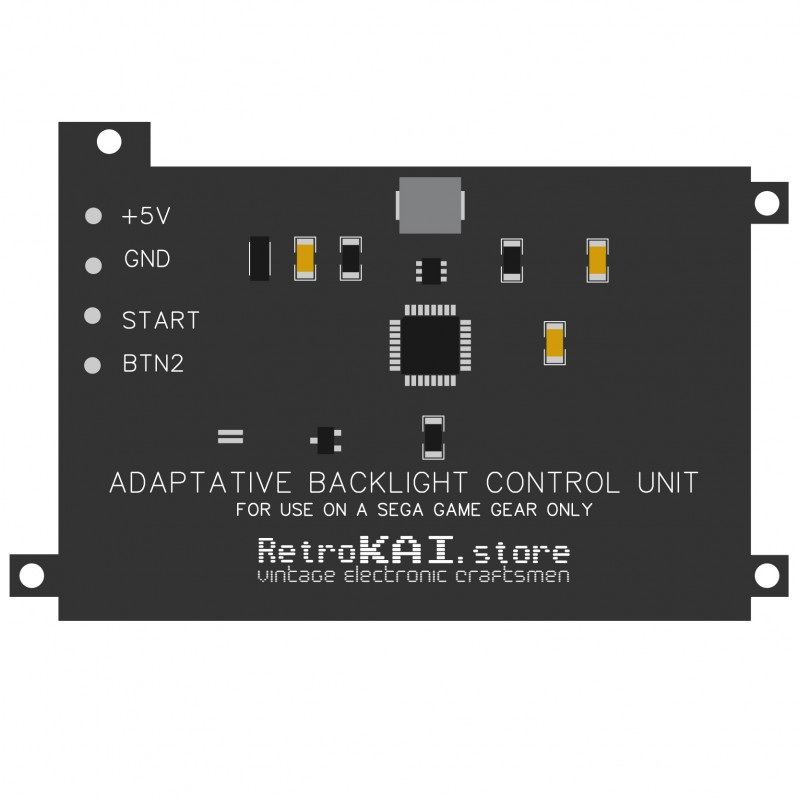  
Adaptative Backlight for Sega Game Gear
The Adaptative Backlight is a modification kit designed by RetroKAI that replaces the original CCFL tube backlight with a more modern, uniform and energy efficient LED backlight.
It also allows you to change the brightness level of the backlight, which is not possible with the original backlight (only the contrast can be changed).
Compatible with SEGA Game Gear versions VA0 and VA1.
Secure payment via PayPal or credit / debit card
You benefit from PayPal buyer's protection
International delivery
France: 24 to 48H - Europe: 2 to 5 days - Rest of the world: 6 to 12 days
Easy to install
Some components to remove, 4 solder wires and 4 screw screws, more details in the complete installation manual to help you step by step during installation.
Simple to use and easy to use
Press START + BUTTON 2 to adjust the backlight level
Benefits
- Optimized battery life, more than 8 hours on batteries ! On a Game Gear it's an achievement !
- YOU model the backlight level as you wish according to the environment or your preference. Play at night without hurting your eyes, play in broad daylight while seeing what's happening on the screen.
- No halo of light like those that can be obtained with other backlight mods (of lower quality?) or even with the original CCFL tube lighting.
Equipment required for installation 
A soldering iron, a gambit screwdriver and a cruciform screwdriver.
3 other products in the same category: