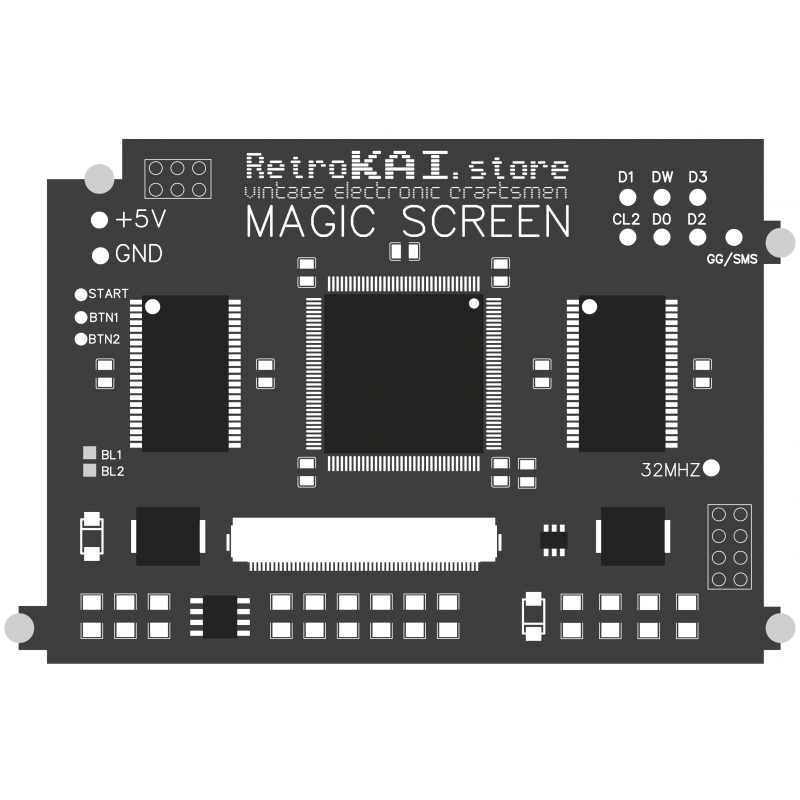  
Magic Screen LCD replacement for Game Gear
Want to change your original faded screen with limited viewing angles?
Install a Magic Screen!
Aligning brackets, 3 components to remove, 6 wires to solder, installation in less than 1H.
Secure payment via credit/debit card and PayPal

International delivery by La Poste and Delivengo
Tired of the faded screen with the limited viewing angles of your Sega Game Gear?
We offer you our new LCD screen for Sega Game Gear!
Simple to center
The Magic Screen is a TFT screen that is easy to center thanks to its plastic brackets that screw in the same way as the original screen.
Only 6 wires to solder
To avoid having to solder a lot of wires, we developed the Easy Soldering Guide, a piece of printed circuit board that solders directly to the connector on the original Game Gear display. This connector connects to the main printed circuit board via a ribbon cable.
The printed circuit board that comes with the display therefore only needs 2 wires to work, it will take 6 to enjoy all its features.
Only 3 components to remove ?
The installation of the Magic Screen requires (in addition to the original screen and its backlight system of course) the removal of only 3 components.
Features
If you choose to do the complete installation (6 wires to solder so), you can choose between the 7 display modes proposed in order to have the choice according to the game you are playing and control the intensity of the backlighting using the original contrast wheel.
And yes, of course, the vertical scanlines are part of the game.
Installation in 1H
Validated by the Marketing guy who sucks at soldering, myself, since I'm the one writing these lines.
Low consumption, high reliability
When designing the Magic Screen, we paid particular attention to energy consumption and component reliability.
Thus the Magic Screen consumes between 1.6W and 2W depending on the backlight setting chosen and we have chosen to equip the kit with a switch-mode power supply for maximum reliability. We did not want to risk the linear power supply which sometimes causes a short circuit in the kit or in the console.
No risk of burning anything if the console voltage is not perfect thanks to the protections integrated in the circuit. The inductors are also oversized to ensure maximum lifespan.
Power consumption comparison of the existing mods

| | | |
| --- | --- | --- |
| Installed mod | Power consumption | Battery life |
| Unmodified Game Gear | 3W | 2H30 to 3H |
| McWill | 3,5W | 2H to 2H30 |
| Chinese clone (v2 included) | 3,5 to 4W | 2H |
| Magic Screen | 1,6 to 2W | 5H to 6H |
| Adaptative Backlight | 1,2W | 7H to 8H |
Note: beyond 3.5W the power supply card has difficulty providing the necessary power to operate the Game Gear. It starts to heat up and wear out prematurely, even more true if you use a flash card like EverDrive which consumes more power than a standard game.
Compatible with Sega Game Gear VA0 and VA1 only